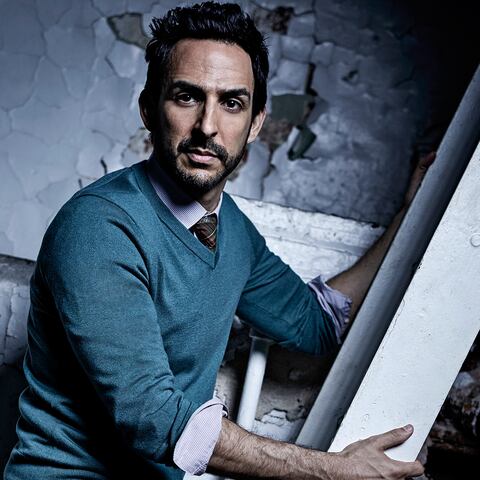 Aram Mojtabai
Played by
Amir Arison
Actor Bio
Amir Arison stars as Aram Mojtabai on NBC's "The Blacklist."
Arison's notable recurring roles in television include "Girls," the Emmy Award-winning "Homeland," "Zero Hour," "Law & Order: SVU," "Dallas" and "State of Georgia."
Guest star appearances include "Ramy," "Billions," "American Horror Story," "Once Upon a Time in Wonderland," "Bull," "Major Crimes," "The Mentalist," "NCIS," "Law & Order: Criminal Intent" and "Fringe," as well as Rodrigo Garcia's hit web series "Blue" with Julia Stiles. Arison was also a series regular on digital series "H+" for Warner Bros.
Arison's film credits include "Jane Wants a Boyfriend," "Before the Sun Explodes," "Big Words," "A Merry Friggin' Christmas" with Robin Williams, "Today's Special," Nia Vardalos' "I Hate Valentine's Day," Tom McCarthy's "The Visitor," Amy Heckerling's "Vamps" and "20 Weeks," which had its world premiere at the L.A. Film Festival and is available for streaming on Hulu. His short film "Fortress," which he stars in and directs, won several awards on the film festival circuit.
On stage, Arison recently starred in the Waterwell production of "Hamlet," alongside Arian Moayed and Sherie Rene Scott.
Additional New York theater highlights include "The Muscles in Our Toes" (Off Broadway, Labyrinth), "Aftermath" (NYTW, Drama League Nominee), Christopher Durang's "Why Torture Is Wrong" (The Public Theatre), Charles Mee's "Queens Boulevard" (Signature), "A Very Common Procedure" (MCC), "Modern Orthodox," "Omnium Gatherum" (Pulitzer Finalist), "Candy & Dorothy" and "A First Class Man."
Internationally, Arison starred in "Love's Labour's Lost" (RSC's Complete Works Festival). Notable regional credits include the Shakespeare Theatre, the Huntington, Yale Repertory, Paper Mill, Long Wharf, the Lyric, Shakespeare Festival of St. Louis, Shakespeare Theatre of St. Louis, Olney Theatre Center and the Dorset Theatre Festival.
Arison has directed theater projects in New York and Los Angeles for IAMA Theater Company, Circle X and Mind the Gap, among others.
Arison is currently in production on a feature documentary that he is directing, titled "Tati."