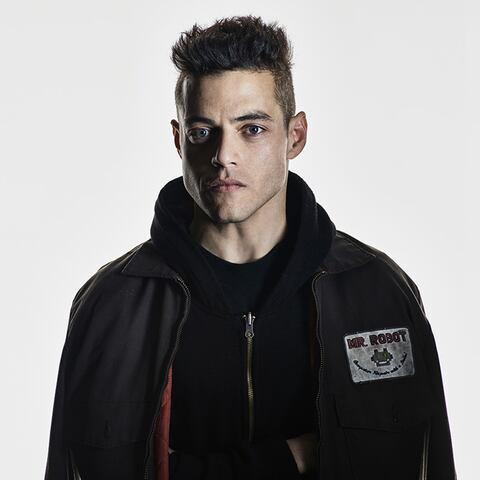 Elliot Alderson
Played by
Rami Malek
Character Bio
As a senior network technician for cyber security firm Allsafe, Elliot protects corporate clients — including the ubiquitous Evil Corp — from security breaches and data theft. As a vigilante hacker, he monitors the people in his daily life and protects those he's close to from their own flaws, sometimes with unpredictable results.Originally from Washington Township, New Jersey, Elliot now lives alone on the Lower East Side. He suffers from crippling anxiety, which stems from memories of his difficult childhood. His father died when Elliot was young, and his now-estranged mother was brutally cruel. Elliot has spent most of his adult life isolated from the world around him.After being arrested for financial hacking, he has been attending court-ordered therapy for almost a year. Elliot, however, prefers self-medication by morphine, an addiction he mediates with suboxone. He obtains both from his next door neighbor, Shayla.With the arrival of Mr. Robot, Elliot's world changes entirely. Fsociety's members and mission offer him a renewed purpose -- though accompanied by a risk of heightened paranoia -- leaving him faced with the question of whether to numbly continue the life he knows or risk everything and participate in Mr. Robot's revolution. 
Actor Bio
Academy Award, Golden Globe, SAG and Emmy winning actor RAMI MALEK has won audiences over worldwide with his portrayal of Freddie Mercury in Fox's Queen biopic BOHEMIAN RHAPSODY, which earned over $900 million at the box office.  For his starring role he received an Academy Award®, SAG, BAFTA, and Golden Globe® for Best Actor in a Drama.   The film also won a Golden Globe for Best Motion Picture Drama, in addition to receiving an Academy Award nomination for Best Picture. 
Malek is the star of the critically acclaimed and award-winning psychological drama MR. ROBOT.  For his role as Elliot, Malek won an Emmy and Critics Choice Award, and is also a two-time Golden Globe and Screen Actors Guild Award nominee. 
His film credits include Michael Noer's PAPILLON, Paul Thomas Anderson's THE MASTER, Tom Hanks' LARRY CROWN, Spike Lee's OLD BOY and Destin Daniel Cretton's SHORT TERM 12.  He also notably appeared in the HBO miniseries "The Pacific." 
Next up, Malek will star as the villain alongside Daniel Craig in the 25th official James Bond film set to be released on April 8, 2020. Malek will lend his voice to the upcoming live action film THE VOYAGE OF DOCTOR DOLITTLE, alongside Robert Downey Jr. He will also produce and star in Universal's film AMERICAN RADICAL, which Mr. Robot's Sam Esmail will direct and produce.