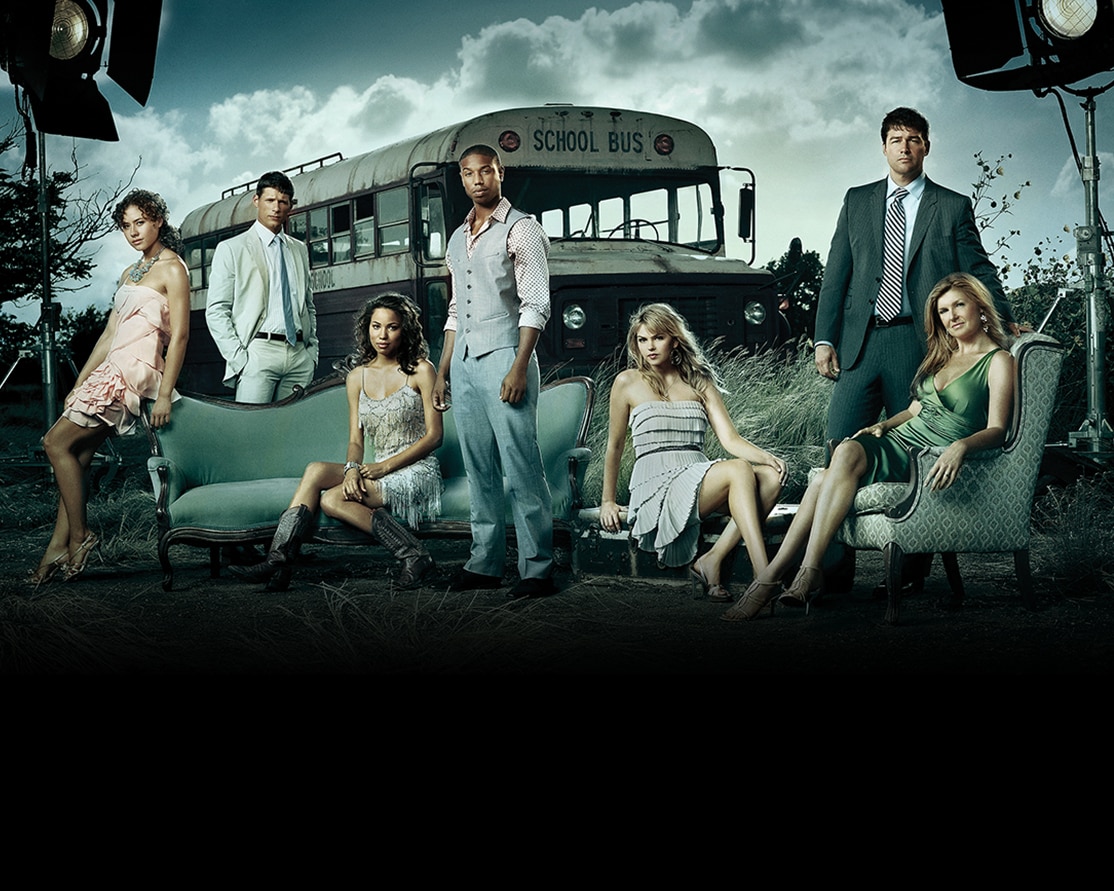 About the Show
Drama
About the Show
Premiere Date
October 3, 2006
Starring
Kyle Chandler as Coach Eric Taylor
Connie Britton as Tami Taylor
Aimee Teegarden as Julie Taylor
Taylor Kitsch as Tim Riggins
Jesse Plemons as Landry Clarke
Zach Gilford as Matt Saracen
Minka Kelly as Lyla Garrity
Adrianne Palicki as Tyra Collette
Scott Porter as Jason Street
Gaius Charles as Brian "Smash" Williams
Michael B. Jordan as Vince Howard
Jurnee Smollett-Bell as Jess Merriweather
Matt Lauria as Luke Cafferty
Dora Madison as Becky Sproles
Inspired by H.G. Bissinger's book "Friday Night Lights: A Town, a Team, and a Dream" and the 2004 Peter Berg movie based on it, "Friday Night Lights" is an award-winning drama series about the trials and triumphs of life in the small town of Dillon, Texas, where football is everything. The series ran for five seasons, with the first two seasons airing on NBC, and the subsequent three premiering first on DirecTV's 101 Network before being rebroadcast by NBC.
Kyle Chandler ("Bloodline," "Zero Dark Thirty") stars as Coach Eric Taylor, the head coach of the Dillon Panthers, whose fortunes rise and fall with the success and failure of the team he leads. He and his wife, Tami Taylor (Connie Britton, "Nashville"), a school counselor and principal, navigate the pressure of their prominent roles in a small community while also balancing work and family.
The series opens with a devastating accident during the first game of the season, which tests relationships and forever alters the lives of the Taylors, the team's players, their families and friends. Star quarterback Jason Street (Scott Porter, "Hart of Dixie," "The Good Wife") must learn to live with a devastating injury, while his girlfriend, Lyla Garrity (Minka Kelly, "Parenthood"), and best friend, Tim Riggins (Taylor Kitsch, "True Detective," "Lone Survivor"), are left reeling. Second-string quarterback Matt Saracen (Zach Gilford, "The Purge: Anarchy") is thrust into the spotlight, causing tension with his sidelined best friend, Landry (Jesse Plemons, "Breaking Bad," "Fargo"), as well as star running back Smash Williams (Gaius Charles, "Grey's Anatomy"). As Coach Taylor works tirelessly with his players, Tami shows the same dedication to her students, including rebellious Tyra Collette (Adrianne Palicki, "The Orville," "Agents of S.H.I.E.L.D."), who develops a challenging friendship with the Taylors' daughter, Julie (Aimee Teegarden, "Notorious").
Through struggles on the field and at home, the Taylors face victory and defeat together, acting as a moral center and compass for those around them. In subsequent seasons, when school politics and redistricting push the Taylors out of the world they've known and into a new and underfunded high school, Eric and Tami mentor a new group of students, including diamond-in-the-rough Vince Howard (Michael B. Jordan, "Black Panther," "Creed") and country-boy Luke Cafferty (Matt Lauria, "Kingdom," "Parenthood"), who lead Coach Taylor's new team, the East Dillon Lions. With assistance from football-obsessed Jess Merriweather (Jurnee Smollett-Bell, "True Blood," "Underground") and a host of former players and friends, the Taylors introduce a new group of students to the life philosophy embodied in Coach Taylor's motto: Clear eyes, full hearts, can't lose.
A critically acclaimed show beloved by fans, "Friday Night Lights" won a Humanitas Prize, a Peabody Award, and a Television Critics Association Award. The show was nominated for the Emmy Award for Outstanding Drama Series in 2011, with Chandler and Executive Producer Jason Katims both winning Emmys that year, for Outstanding Lead Actor and Outstanding Writing for a Drama Series, respectively. Shot using a documentary-style filming technique without rehearsal or extensive blocking, the series was filmed in Austin and Pflugerville, Texas, using local games, stadiums, fans and homes to give the series its authentic feel.
Notable series guest stars and recurring cast include Brad Leland ("Veep"), Derek Phillips ("Longmire"), Louanne Stephens ("Longmire"), Cress Williams ("Black Lightning," "Hart of Dixie"), Kevin Rankin ("Breaking Bad," "Justified"), Stacey Oristano ("Shameless"), Kim Dickens ("Fear the Walking Dead," "Deadwood"), Dana Wheeler-Nicholson ("Fletch"), Steve Harris ("The Practice"), Zach Roerig ("The Vampire Diaries"), Patrick J. Adams ("Suits"), Lorraine Toussaint ("Orange Is the New Black," "Rosewood"), Jessalyn Gilsig ("Scandal," "Glee"), Aldis Hodge ("Leverage," "Straight Outta Compton"), Steve Harris ("The Practice"), Daniella Alonso ("Revolution"), Blue Deckert ("Private Practice"), Glenn Morshower ("Bloodline," "24"), Jana Kramer ("One Tree Hill"), Janine Turner ("Northern Exposure"), D.W. Moffett ("Switched at Birth"), Jeremy Sumpter ("Peter Pan"), Grey Damon ("Station 19"), Emily Rios ("Breaking Bad," "The Bridge") and Aasha Davis ("Drunk History").