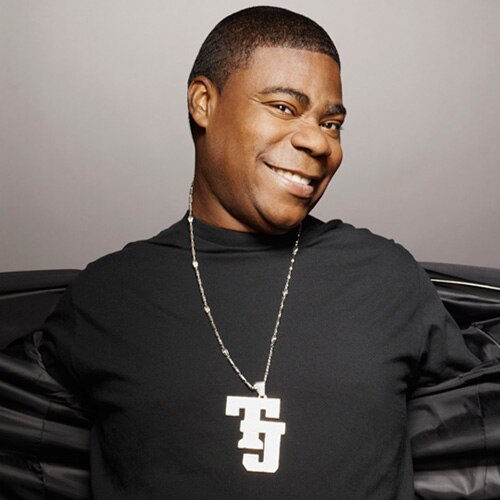 TRACY JORDAN
Played By Tracy Morgan
Actor Bio
Tracy Morgan plays wild and unpredictable movie star Tracy Jordan in NBC's three-time Emmy Award-winning "30 Rock," a workplace comedy where the workplace exists behind the scenes of a live variety show. Morgan was nominated for an Emmy in 2009 for Outstanding Supporting Actor in a Comedy Series for his role. In addition to his five individual NAACP Image Award nominations, Morgan, along with the "30 Rock" cast, won a 2009 Screen Actors Guild Award for Outstanding Performance by an Ensemble in a Comedy Series.
The last few years have been busy for Morgan as he balances between "30 Rock" and a busy movie career while also continuing to travel the county for stand-up. With comedy always as his foundation, Morgan has begun tackling dramas and independent films. In 2010, he starred alongside Al Pacino and Channing Tatum in the crime-thriller "The Son of No One" which received Sundance Film Festival honors. This August brings "Why Stop Now," which was also an official selection at Sundance. The film is centered on a piano prodigy (Jesse Eisenberg) who on the day of a big audition winds up on a drug-fueled odyssey with his addled mother (Melissa Leo) and her drug dealer, Sprinkles, played by Morgan.
Morgan has also had the opportunity to be a part of some of the most successful animated films in recent years. In 2009, he made his animation debut lending his voice for Jerry Bruckheimer's "G-Force," a combination live-action/CG film. The film opened No. 1 in US box offices and was celebrated by audiences worldwide. Last year, he starred as the bulldog Luiz in the colorful and lively film "Rio."
Another milestone for Morgan was reached in 2009 with the release of his first book, a compilation of studied anecdotes and some of the more serious moments that shaped him and his career entitled "I Am the New Black." He also headlined the famed "New York Comedy Festival" which featured acclaimed comedians including Bill Maher, Andy Samberg and Patton Oswalt, among others. Lastly, Morgan rounded out his list of great comedic achievements with his first HBO Special, "Black and Blue."
As a stand-up comic who has headlined across the country, Morgan was first introduced to television audiences in his role as Hustleman on the hit comedy series "Martin." He went on to join "Saturday Night Live" in 1996 where he appeared for seven seasons and created such memorable characters as Astronaut Jones and Brian Fellows. After leaving SNL, Morgan went on to star in his own comedy series "The Tracy Morgan Show" and voiced "Spoonie Luv" on Comedy Central's "Crank Yankers." Additional film credits include "Cop Out," the remake of the British film "Death at a Funeral," Dimension Films' "Superhero Movie," "First Sunday" opposite Ice Cube and Katt Williams, "The Longest Yard" opposite Adam Sandler, the Wayans brothers' "Little Man," "Jay and Silent Bob Strike Back" and "Head of State."
Morgan currently resides in New Jersey.