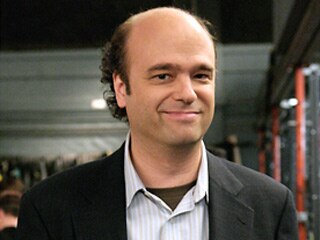 PETE HORNBERGER
Played By Scott Adsit
Actor Bio
Scott Adsit plays producer Pete Hornberger on NBC's three-time Emmy Award-winning "30 Rock," a workplace comedy where the workplace exists behind the scenes of a live variety show.
A seasoned improv and sketch performer from Second City in Chicago, Adsit has appeared in countless television shows including "Felicity," "Monk" and the influential sketch comedy shows "Mr. Show" and "Tenacious D." Adsit has guest-starred on "The Office," "Malcolm in the Middle," "Huff," "Alias," "CSI Miami," "Friends" and "Curb Your Enthusiasm." He also writes, produces, directs and performs voices for Adult Swim's critically acclaimed "Moral Orel" and "Mary Shelley's Frankenhole."
Adsit's feature credits include the Christopher Guest comedy "For Your Consideration," and he has starred in "The Bad News Bears," "Kicking and Screaming," "The Terminal," "The Italian Job" and the critically praised indie film "Lovely and Amazing." He also had a role in Steven Soderbergh's film "The Informant" in 2009.
Adsit won the Joseph Jefferson Award for Best Actor for his work at Second City and has also been nominated for two Annie Awards. Adsit, along with the "30 Rock" cast, won a 2009 Screen Actors Guild Award for Outstanding Performance by an Ensemble in a Comedy Series.