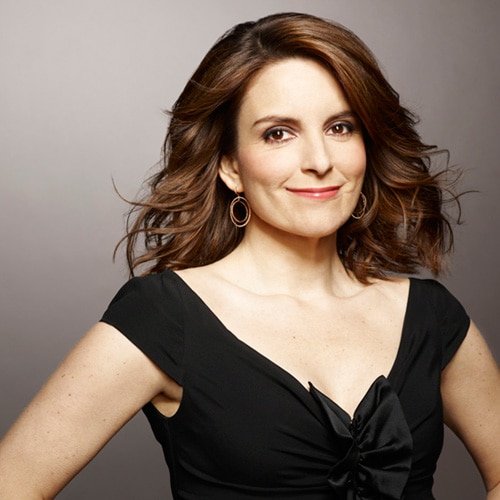 LIZ LEMON
Played By Tina Fey
Actor Bio
Tina Fey is Executive Producer, head writer and star of NBC's three-time (2007, 2008, 2009) Emmy Award-winning, one-of-a-kind comedy series "30 Rock," a workplace comedy where the workplace exists behind the scenes of a live variety show. Her performance as Liz Lemon has earned Fey an Emmy, two Golden Globes, three SAG Awards and a People's Choice Award. In 2009, "30 Rock" was nominated for a record 22 Emmy Awards, the most ever of any comedy series on television in a single season. "30 Rock" premieres on October 4th for its final, seventh season.
Prior to creating "30 Rock," Fey completed nine seasons on NBC's "Saturday Night Live" with roles as head writer, cast member and co-anchor of the "Weekend Update" segment. Fey is an Emmy winner and two-time Writers Guild Award winner for her writing on "Saturday Night Live" and won an Emmy in 2009 for Guest Appearance by an Actress in a Comedy Series for her portrayal of Sarah Palin on the 2008-2009 season of SNL.
Since her transition to being in front of the camera, she has won much acclaim, including being named The Associated Press' Entertainer of the Year in 2008, one of Entertainment Weekly's Entertainers of the Year on numerous occasions, one of People Magazine's "Most Beautiful People" (four times), and one of Time magazine's "Prestigious Time 100" (two times). "30 Rock" has earned her three Emmy Awards for Outstanding Comedy Series, a Golden Globe for Outstanding Comedy Series, a SAG Award for Outstanding Performance by an Ensemble in a Comedy Series, two Writers Guild Awards for Outstanding Comedy Series and two Producers Guild Awards. She has also won two Gracie Awards, a Made in New York Award and was the youngest recipient of the Mark Twain Award for American Humor in 2010.
Fey expanded to feature films in spring 2004 as both a screenwriter and an actress in the hit comedy "Mean Girls," which earned her a nomination for a Writers Guild Award for Best Adapted Screenplay. On the big screen, Fey starred opposite Amy Poehler in the film "Baby Mama" for Universal Pictures, which has exceed the $50 million dollar mark at the U.S. box office. In 2010, Fey starred in the 20th Century Fox film "Date Night" opposite Steve Carell and was a featured voice in the Dreamworks animated film "Megamind." In April 2011, Fey released her first book entitled "Bossypants," which topped the New York Times Best Seller list and remained there for 39 consecutive weeks. "Bossypants" was released in paperback in January 2012 and has sold over 1.5 million copies thus far.