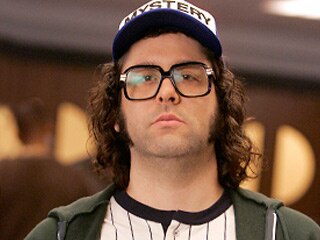 FRANK
Played By Judah Friedlander
Actor Bio
Judah Friedlander plays Frank, the wisecracking writer, on NBC's three-time Emmy Award-winning "30 Rock," a workplace comedy where the workplace exists behind-the-scenes of a live variety show.
Friedlander makes and writes all the sayings on the hats that he wears on "30 Rock." He, along with the "30 Rock" cast, won a 2009 Screen Actors Guild Award for Outstanding Performance by an Ensemble in a Comedy Series.
Friedlander is a stand-up comedian who also happens to be a critically acclaimed actor as well. Judah started doing stand-up comedy in 1989. On the comedy stage, Judah Friedlander is "The World Champion." He is the best athlete in the world, greatest martial artist, the sexual desire of every woman and a role model to children. Let's face it, critics and audiences from around the world all agree: Judah is the greatest comedian in the world... And the most humble. Judah is an extra-dark black belt in karate.
Judah was nominated for Best Supporting Actor at the 2003 Independent Spirit Awards for his role in the Sundance-winning "American Splendor." USA TODAY named Judah Best Supporting Actor for 2003. New York Times Magazine also named him as one of the best actors of the year for "American Splendor." Judah has been in over 25 feature films. But you might not recognize him, because he often looks and acts nothing like he does on "30 Rock." Judah is known for completely transforming himself into different characters. Some movies where Judah demonstrates this are "The Wrestler," "Duane Hopwood," "Chapter 27," "Southern Belles," "Live Free or Die," "Full Grown Men" and "Feast." Judah has also appeared in comedy classics like "Meet the Parents," "Zoolander" and "Wet, Hot American Summer." Judah lent his voice to the animated movie "Rio" and the upcoming "Leafmen," as well as the TV Christmas special "Ice Age: A Mammoth Christmas." Next year, Judah will be starring in the much-anticipated prequel to "Wet, Hot American Summer."
In addition to his stand-up comedy television appearances, Friedlander has appeared in many television shows, including "Curb Your Enthusiasm," "Sesame Street", "The Green Room with Paul Provenza" and "Wonder Showzen," and he was a regular on VH1's "Best Week Ever." He also starred as the "Hug Guy" in the classic Dave Matthews Band music video "Everyday."
Judah is working on a stand-up comedy album, a concert movie and his own film project, tentatively titled "World Champion." In 2010, he released a comedy book, "How to Beat Up Anybody: An Instructional and Inspirational Karate Book by the World Champion." Despite his busy "30 Rock" production schedule, he continues to tour the country with his stand-up comedy act. More information can be found at http://www.judahfriedlander.com. Judah is also very active on Twitter - @judahworldchamp - and Facebook - facebook.com/judahworldchamp.